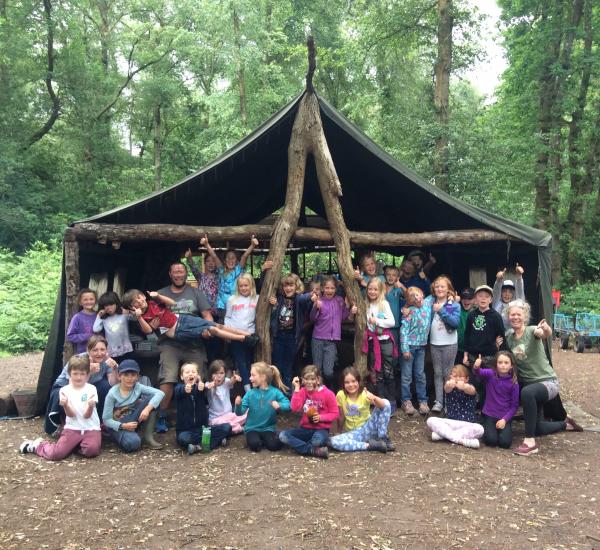 Latest news
24.03.20: COVID-19 Update
Following the PM's announcement last night where new strict rules were implemented on us, stating we should only leave home only to exercise once a day, travel to and from work where "absolutely necessary", shop for essential items and to fulfil any medical or care needs.
Therefore, we are not able to deliver any sessions in the woods for this period, but we will be open for adventures as soon as this storm passes and boy we will all be ready for some outdoor time!
Stay safe, be kind and help your neighbours and loved ones. 
Following the announcement that all schools in the UK are to shut until further notice, will undoubtedly cause additional worry and strain on family life.
 
We are following government advice and have taken into consideration the space in the woods and the fact that it allows adequate social distancing - click here for more information...> 
 
Therefore we are still open and as a way to help we would like to offer some EXTENDED CHILDCARE options, with priority spaces for front line NHS staff and care workers.
 
Extended Childcare
In light of the schools closing and the impact to many of you as working parents. We are offering a limited number of spaces for children to come to 'wood school'. They will have the equivalent of half an acre per child in the woods! We will implement social distancing and strict hygiene measures. We ask that children bring their own lunch and mug. We are currently offering the extended childcare for children aged 6 years and over, do speak to us if you have a younger child. We are going to initially offer this extended childcare on the following days (subject to our health);
Thursday 26th March
Friday 27th March
Thursday 2nd April
Friday 3rd April
Times are 10.00am to 4.00pm with the option to extend to a full day (9am-5pm) for £35 per child.
We do not normally do sibling discounts but we will be on this occasion. Contact us

Please let us know if alternative days are requested and we will see if we can accommodate this. We are also looking into the possibility of the extended childcare continuing into the summer term until further notice.
 
What is not to like....your children are learning outdoors - a large space and not many children and you get work as best you can under the circumstances! Contact us to book a space or ring 07775 941353. 
 
Do not come to the woods if;
One person in your household has a new persistent cough or fever, everyone living there must stay at home for 14 days.
You are feeling unwell (such as a common cold, sore throat etc) but think it is not COVID-19, please also stay at home. We all want to keep our immune systems as healthy as possible during this time.
You are over 70, pregnant or have known under lying health issues.
You or anyone in your household should be self-isolating
 
We ask that you;
Bring your own mug / cup to the sessions. We will NOT be providing the usual cups
Maintain a social distance from people (2 metres), following Government guidelines
Follow and maintain Government hygiene guidelines
If you feel that you do not want to attend the sessions, we will arrange a transfer of your sessions so you do not miss out.
 
Our aim
We aim to continue to provide an outstanding service that allows learning to take place outdoors, people to attend that are not in social isolation, support our frontline NHS staff, support working parents and give children an alternative to staying indoors. Whilst not compromising the health and well-being of anyone.
 
Advice and guidance on coronavirus is changing daily. We are monitoring the situation and will endeavour to fulfil your needs, as long as we can. As you know I am deeply passionate about what we offer in the woods and the magic we create together in a beautiful space.

Louise and team
19.03.20 - Regular groups
Treetots
We will be continuing with Treetots for those that would like to still come along. There are three more weeks of this block and we are still planning to run the next block and bookings are open as advertised.
 
Easter Adventure Days
We are planning our adventure days as advertised, we will be adding in some additional days to help those of you that need to work. We will also be limiting the number of children that can attend these days.
 
Easter Family Nut Hunt
Sadly, given the type of event this is and that we often have families with Grandparents attending, we have decided to CANCEL this event, it was scheduled for Friday 10th April.