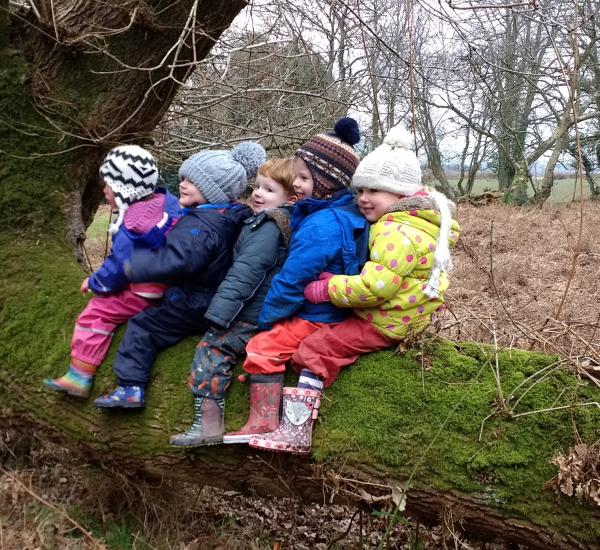 Treetots
Perfect for those little explorers
Treetots - a parent and toddler group in the woods!
Would your child like to play, explore and get muddy in our beautiful woods? Join us each week for child led woodland adventures and free play to spark imaginations, have fun and get closer to nature.
We will provide a safe, relaxed and inspirational setting for you to allow your child some completely unstructured play time and provide you an hour in your busy week to simply watch your child, follow their lead and enjoy the woodlands from a completely different perspective. 
So whether you end up searching for acorns under the soggy leaves or making wellie prints in the mud, your child will lead the way.
Treetots 
There will be limited numbers at each session
We are requesting that only one adult comes with the toddler, in order to minimise social contact.
Please bring your own mugs for a hot drink and a snack
Hot drinks will be provided for children and adults.
Please bring your own bottle of pocket hand sanitiser and a face mask.
Wear suitable outdoor clothing to keep warm and dry.
Babies welcome in slings and 'off road' pushchairs.
Facilitated by our playworkers and forest school leaders.

Treetots must be booked and paid for in advance, directions will be sent with booking confirmation.
Thursday 10:00am - 11:00am 
Friday 9:30am - 10:30am 
Click on the season bar below to book. When you go through to PayPal make sure you select your chosen day from the drop down as well. Alternatively call us for more information on 07775 941353
Date
Activity/event
Cost

Thursday 8th September 2022

-

Thursday 20th October 2022

Treetots
£40.00

Friday 9th September 2022

-

Friday 21st October 2022

Treetots
£40.00

Thursday 3rd November 2022

-

Thursday 15th December 2022

Treetots
£40.00

Friday 4th November 2022

-

Friday 16th December 2022

Treetots
£40.00
Customer Testimonials for Treetots
I've really enjoyed coming along to Treetots where I've watched my son discover new skills through play and observation. It's amazing to see how much he takes in week by week through the activities run by Louise and Clare in a fun and safe environment . Treetots gives children the freedom to expand their mind amongst nature.
It is absolutely because of Louise and the Woodland Play Centre that my own daughter now goes to Forest School, can walk for 3 hours on the Quantocks in the rain, and find frogs and toads in pools where no frogs are found, or monsters and dragons, in the trees. I will always be grateful to Louise for having inspired this in her – and she is still only 4!