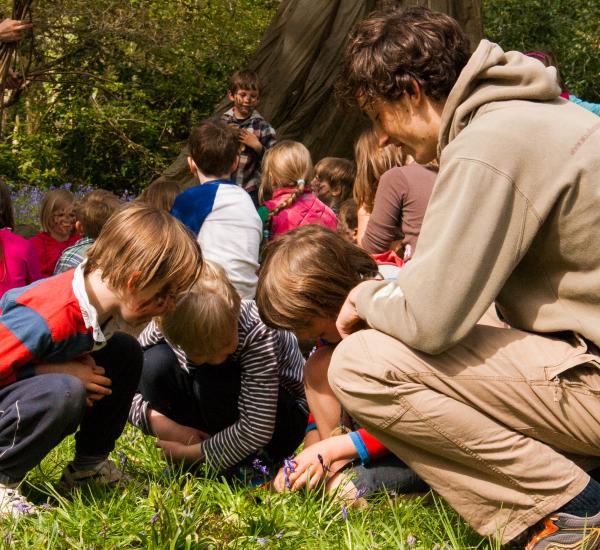 Woodland Educational Days
The perfect place for school and nursery children
The Woodland Play Centre welcome school classes during term time to come and play, explore and learn in the woods on our WOODLAND EDUCATIONAL DAYS. Discover all about the woodland creatures, the trees and the flowers, as well as making the most of nature's playground whilst they are here.
We run a Gruffalo experience for preschools and nursery age children. Local primary schools can use the woodland as their outdoor classroom, where we incorporate their current curriculum topics into their outdoor learning experience.
The Woodland Play Centre is the perfect place for school and nursery children. We offer educational day trips to nurseries, pre-school children and primary and secondary schools. The Woodland Play Centre is not only nature's playground, but it is also nature's classroom. There is no better way to experience learning outside the classroom, than coming to open, engaging, inspiring and beautiful woodland – whatever the weather!
We can spend a whole day or half day outside in the natural environment, enhancing core curriculum skills, in a fun, hands-on and exciting way. We collaborate with the schools or settings in advance to ensure that our activities slot neatly into their termly school-based activities. For example, tree planting and linking to a class debate on pest control and traditional tales, folklore and fairytales reinacted in the woods.
Bringing children out of the classroom encourages them to use all their senses and creates lasting memories.
We can provide Forest School programmes for schools and settings. Forest Schools for pre-school, primary or secondary school children are designed to be attended on a weekly or fortnightly basis for a term or ideally a full academic year. Each programme is tailored to meet the curriculum in an outdoor environment, along with a host of holistic development activities.  
Forest Schools, a traditionally Danish concept, are described as a 'Classroom without walls'. They are a unique way of educating children outdoors, using the environment as a learning platform.
Forest Schools are a growing and developing notion within the UK, where research has identified an increased number of children having little access to outdoor spaces for structured education or free play. In this day and age when children are getting more and more involved in screen time rather than green time, the work of those that are inspired by the Forest School ethic is becoming more and more vital.
Encouraging children outdoors and away from playing games online or watching television, is essential. Many schools and groups run Forest School within their own grounds, we can support those groups too with occasional trips to support your programme.
Our educational activities can include all or some of the following.
Fire Lighting
Bug Hunting & Identification
Wildlife Tracking
Shelter Building
Tree Identification
Campfire Cooking
Wild Art
Storytelling & Drama
The length of the session, the age and size of the groups attending determine how many activities we are able to do. 
Please contact us to discuss your curriculum needs and which activities you would like your children to take part in.
All ages and abilities are welcome.
Full day (estimated 09.30 – 15.00hrs) or half day (a morning or afternoon).
We take groups of up to 30 children at a time. We require 1 teacher to 8 children.
Start at £270.00 per day. Each day is tailored to meet your needs.
Can be provided for an additional £3.50 per head, depending on the food required.
Some of our Educational Packages vary in cost, please contact us to discuss.
Wild Night Out

This is an overnight wildlife camp for school, uniformed and youth groups. They offer a special selection of activities, bringing together environmental and wildlife encounters with an adventurous outdoor experience – of course all with a sprinkle of magic to make it a truly memorable experience! 
From camp we'll go on short explorations of the natural world at different times of day – and night! We'll have a campfire to cook on and tents to sleep in. It is a very full experience with lots to do. 
Accommodation and Facilities: Everyone camps in tents, which can be provided or hired. We provide toilets and facilities for washing. It is in the nature of the Wild Night Out that toilet facilities may be basic. Children and adults should be made aware of this before coming on the experience so they know what to expect. The highest possible levels of cleanliness, comfort and privacy are maintained. 
Food: Evening meal, breakfast, lunch and drinks are provided. We cook on the campfire. Vegetarians and most allergies can be catered for.
Suggested 7 years and over
10.00am to 3.00pm the following day
Bring packed lunch for first day. Evening meal, breakfast and lunch provided. 
Contact us to book, alternatively call on 07775 941353 to check availability
Your reviews
Dear Louise, Thank you so much for a truly magical visit. We all agreed that it was one of the most enjoyable school trips we've done. There were so many firsts for our children: first time a child with sensory needs had ever had their face painted, first time one child had ever audibly spoken to a group (when you asked them to shout their name), first bus trip... and so on! I think we'll all sleep well tonight!