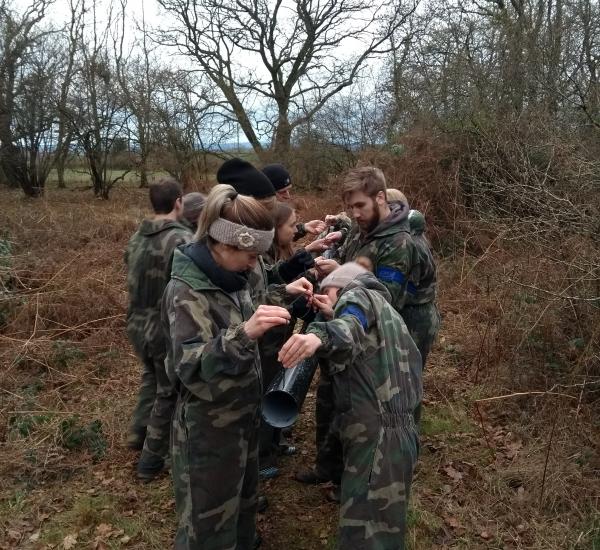 Team Building
Looking for a challenging day out for your team?
We have a variety of corporate outdoor activity events for the private industry sector, the forces, and other large groups who simply wish to have some fun or gain some knowledge and skills in the activities we offer. 
We have teamed up with our brother company Active Escape, and work closely to provide adrenaline-fuelled adventure days in both West Somerset and North Devon. The adventure days or weekends can have a team building and leadership focus, simply be a great jolly to treat your staff. Or form part of the activities on a stag or hen weekend or a family and friends days out. Whatever your requirements we can help.
We work with other local organisations to ensure that your day or weekend is truly unique, rewarding and memorable!
Team Days include activities that encourage; 
Team work
Communication
Challenges
Problem solving
Can be provided, additional cost dependent on hot or cold. 
Your reviews
Staff who were not really looking forward to the day really enjoyed the whole experience from getting to know each other better, the atmosphere and the challenges ….not forgetting the delicious food by the campfire which was a treat in itself!
The day enabled the team to have fun through problem solving. We were able to learn more about each other – our communication styles, levels of patience and the joys of friendly competitiveness. Everyone loved the woods and have talked about going back for other activities /events in the future. Louise has a very special woodland oasis where you really do feel you can get away from it all and most of us didn't really want to leave at the end of the day."
"The whole day was just brilliant. I especially enjoyed the tasks in the afternoon, not wanting the day to end"
"Very well planned by the organisers at Woodlands, Louise and Ben (such lovely people), something for everyone, never a dull moment with the dingbats to fill in with any spare time we had."